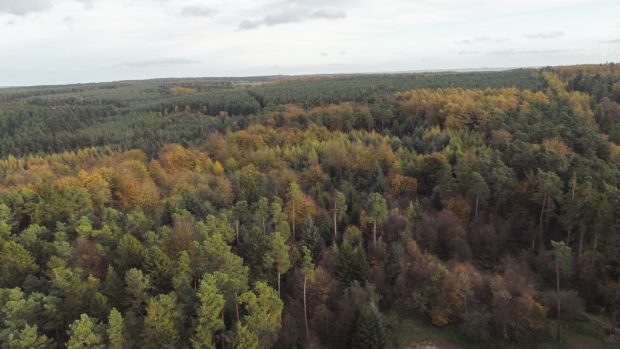 I have recently taken on the chief executive role at Forestry England at an exciting time in the organisation's history, our centenary year. It is also a time of high public interest in the contribution trees and forests can make to our environment.
The government's 25 year environment plan recognises that it is important to create new woodlands and use more, sustainable wood products to lock up carbon from the atmosphere. The recent Forestry Commission statement also highlighted the key role forestry plays in reducing the negative impacts of a changing climate.
At Forestry England, our ability to deliver on that is enormous. Trees in the nation's forests currently store over forty eight million tonnes of carbon. Planting new areas of forest means we can lock up more.
The benefits we create through actively expanding and managing the nation's forests have never been more relevant in a world that is a facing a climate crisis. It is our role to lead by example, helping society by making the trees and forests we look after more resilient over the next 100 years.
We are making sure the nation's forests have the best chance to thrive, despite the challenges, and working to protect them so that people can still enjoy them.
What is Forestry England doing?
Growing our forests
The need to plant more trees and create new forests to lock up C02 has never been greater. We have been tree experts for 100 years; managing our forests so that they store carbon for the long term and planting new forest woodlands so we can lock up even more. Trees start as tiny seedlings and our nurseries produce around 16 million new trees each year to replant and create new areas of woodland. Our new £4.5 million glass house marks a step-change in our ability to grow a more diverse range of trees, some of which have been difficult to source.
Being more diverse
Choosing different species of tree to grow, and sourcing them from places where the climate today is similar to how our climate could look up to 100 years from now, means we are designing forests that will thrive and benefit our grandchildren. We will continue to diversify the trees we plant and choose the best trees for the site conditions we expect in 2050 and beyond.
Being more connected
By joining up woodland across the landscape, we will create resilience to climate change on a large scale. This can reduce the impact of pests and diseases and help make better forests for wildlife to thrive and people to enjoy.
Protecting our forests
We are helping our trees and forests to be in better condition than ever by only supplying healthy trees for planting. All our nurseries have thorough biosecurity checks to minimise risk of pests and diseases and we are signing up to a new independent plant health assurance scheme once this launches in 2020.
Applying science
To aid resilience our forests are becoming more structurally diverse. We commission and use scientific research to inform how we do this and other the practical management that takes place on the ground. Science gives us insight into how our forests will function in future, and tools that support the decisions we take to make our forests resilient and deliver more benefits for the nation.
Our impact as an organisation
It's not just the forests themselves that can help reduce the impact of climate change. We also need to reduce our energy consumption to lower our impact on the environment. We believe that we can cut our carbon emissions whilst continuing to grow our income. That's why we are committed to being carbon net zero by 2033. Work is already underway across our estate, focusing on renewable energy, reducing waste and vehicle emissions so we can meet our goal.
All this is an exciting challenge for Forestry England. We are looking ahead a hundred years or more to ensure we can adapt to the changing climate and the trees we plant today will thrive in our future forests. It is a job that never stops growing.
Find out more about Forestry England's approach to climate change and the nation's forests.
Read the  Climate Change management guidance which has now been published by the Forestry Commission, for practical advice to landowners on ways they can better manage their woodland to combat the effects of climate change.