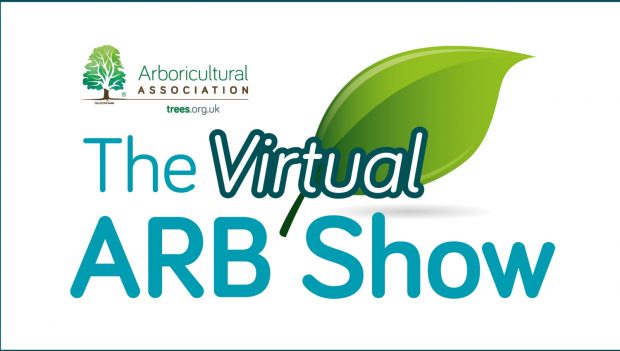 The ARB Show is the flagship industry trade show for arborists and anyone with an interest in tree care which attracts an average of 6,000 visitors a year.
It's also a crucial event for our charity each year, not just in generating income, but also interacting with our members, sharing knowledge and giving them face to face advice and support. For industry professionals, as much as it's about catching up with old friends and networking as it is finding out about the latest advancements and technology.
So, when we had to cancel the event for the first time in its 22-year history due to Coronavirus, our exhibitors and visitors who have helped it grow were left disappointed. While nothing can completely replace the show experience and we certainly can't digitally replicate our stunning venue at Westonbirt, The National Arboretum, we wanted to work out a way to try and bring the ARB Show straight to our supporters and visitors.
The Virtual ARB Show 2020 opens on Friday 15 May and will feature an interactive showground filled with top industry exhibitors offering deals and showcasing the latest equipment and technologies.
How will it work?
To demonstrate support for our wide range of exhibitors, sponsors and partners and of course visitors the event is completely free. Virtual show visitors will browse just as they would at the ARB Show; our exhibitors have filled the interactive showground map with a huge range virtual stands, organized by category.
The Exhibitor list features experts in a huge range of products and services, displaying the latest equipment available in every market from decay detection technology, soil decompaction and enrichment to new climbing kit and almost every type of chipper and shredder you could imagine.
Interactive Activities
As well as equipment and technology; learning and sharing knowledge is a vital part of the trade show with activities including a tree climbers forum, workshop sessions and all manner of demonstrations from climbing techniques to tree root radar mapping technology. Many of these interactive show favourites will still take place and form part of the virtual showground. Including the 'Arborists' Workshop' which will feature a range of must-see webinars and some excellent online learning.
There will also be a virtual knot tying competition, a demonstration area with exhibitors hosting product demo's, tips and tricks, Tree Climbers Forum and Kids Activities.
Response from exhibitors
One thing we couldn't reproduce virtually was the ARB Show campsite, which is always a highlight for those making a weekend of it, with live music and a party lasting until the early hours. But the response from our exhibitors has been fantastic, with many expressing their thanks and feeling that it's a really positive thing to do; for both the exhibitors and those who would have visited.
Forestry Commission's Plant Health Forestry Team will be exhibiting alongside Forest Research and Observatree at the Virtual ARB Show, which opens on Friday 15 May.