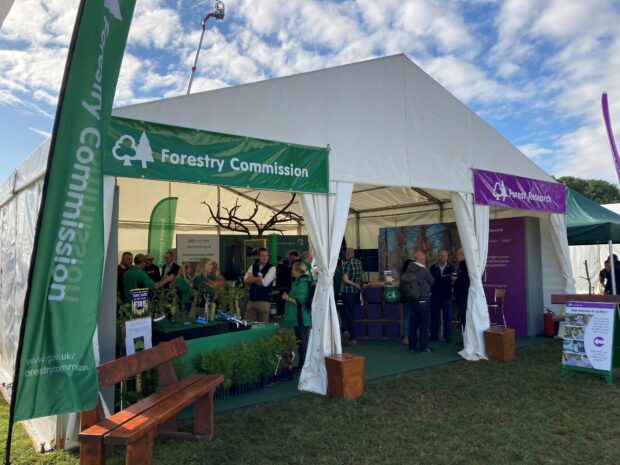 Forestry Commission teams will be attending the following events during October. Come along to speak with us about our work and how you can get involved. Why not share your visit to our stand on Twitter? Don't forget to tag us @ForestryComm #CaseForTrees.
Wednesday 5 October
The Dairy Show
The Showground, Shepton Mallet, Somerset BA4 6QN
We'll be attending the UK's largest dairy show where we'll be meeting visitors to talk about trees and woodland creation.
Saturday 8 October
Alwinton Show
Alwinton, Northumberland NE65 7BQ
We'll be attending the 154th Alwinton Show in Northumberland National Park.
Wednesday 12 October
Forestry Conference
Newbury Racecourse, Berkshire RG14 7PN
'Building resilience together' is the theme of the 2022 Forestry Conference, run by the CLA, Grown in Britain and the Forestry Commission. Speakers include our Chief Executive Richard Stanford.

Farm Walk
Elston Farm, Crediton, Devon EX17 5PB
Join us for an onsite farm walk at Elston Farm, hosted by local farmer and woodland creation ambassador Andy Gray. Andy is planting 5,600 trees on his 165-acre farm to see how trees might benefit his soil and livestock. Lunch is provided.
Tuesday 18 October
Herefordshire Rural Business Advice Day
Hereford Racecourse, Roman Road, Hereford, HR4 9QU
Come and talk to us from midday at this useful event, which shares information and advice on many aspects of farming and rural business.
Friday 28 October
Borderway Agri Expo
Rosehill, Carlisle, CA1 2RS