The Tree Health Team are often out and about delivering talks and training and a lot of the questions we get from people working in the field, are around biosecurity. To help you understand it we've put answers to the most popular questions below.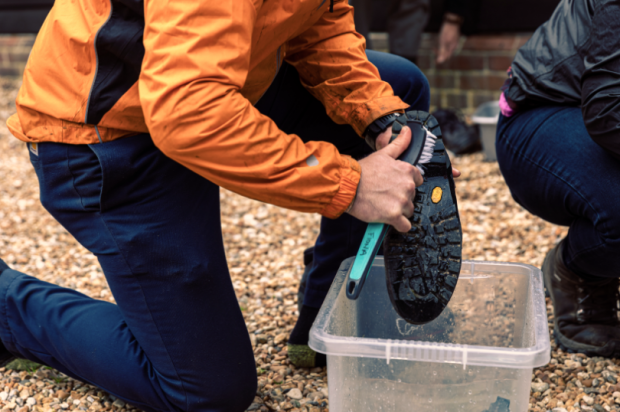 What is biosecurity?
'Biosecurity' is the prevention of the introduction and spread of harmful organisms. These organisms include non-native tree pests like oak processionary moth, and disease-causing organisms such as the fungus that causes ash dieback.
How do tree pests and diseases move around?
Tree pests and diseases can spread naturally through the wind, water and animal migration. However, human activity such as moving infected timber and wearing contaminated boots can have a big impact on the spread of these harmful organisms.
Why is biosecurity important?
Although pests and diseases can spread naturally, the distance they travel is normally limited by environmental factors and their own physiology. Human activity has the potential to spread pests and diseases much further and faster because of the speed and distances we travel. In addition, humans can move a greater volume of infected material than what travels through natural means.
Since the early 2000s, there has been a significant increase in the number of non-native tree pests and diseases being introduced into the UK. The government has put in place rigorous controls to prevent introductions, but it's really important that we as individuals do as much as we can to reduce spread through biosecurity measures.
What should I be doing?
The actions you need to take will depend on the activities or work you carry out. For most people it's simple - keep it clean! Hidden fungi, bacteria and insects live in soil and organic materials and can be easily transported on your boots. It's really important to keep your boots, bikes and buggies clean.
If you work in the field, you should clean your kit between visits. Have a four-legged friend? Clean their paws after walks. If you are an industry professional or land manager, further information on biosecurity measures as a higher risk group can be found on the Forestry Commission website.
When should I carry out biosecurity actions?
You should carry out basic biosecurity actions before entering and leaving each new site you visit, even if they are within the same area. This is because you can never be sure whether a site is free from pests or disease. Sometimes it can take a while for affected trees to display symptoms of infection or infestation. It's better to be safe than sorry. Make sure you arrive to each new site clean.
Got to the end of your visit and forgotten your biosecurity kit? Don't panic. Just make sure you clean everything before your next trip.
Do biosecurity actions really make a difference?
Yes. Pests and diseases can be moved from site to site in soil, water, live plants and other organic material. Biosecurity will reduce the risk of spread.
Why should I bother when others don't seem to?
Lead by example – set a high standard and others will follow in your footsteps. Biosecurity will soon become the norm (it already is in Australia and New Zealand). Remember, there are different expectations of what biosecurity measures should be carried out by different groups. For example, people regularly working with trees are at a greater risk of accidentally moving potentially infected or infested material compared to the general public.
What should a biosecurity kit contain?
You need a stiff brush and a water source to scrub your boots. Some people use portable pressure washers to clean larger items such as bikes.
For professionals working with trees, we recommend a more comprehensive kit as you are a high-risk group. Add these to your shopping list:
Bucket
Bootpick
Brush
Disinfectant
Hand sanitiser
Water container or large reused water bottle
You can buy a complete biosecurity kit at the click of a button, or you can pick up what you need at any hardware store.
What disinfectants should I use?
Propellar and Cleankill Sanitising Spray have been confirmed as being effective against a number of plant pathogens. Remember, make sure you apply disinfectant to a clean surface. It won't work on soiled surfaces so brush or wash off organic material before application. For further information on disinfectants, COSHH (control of substances harmful to health) and safety sheets for Propellar and Cleankill Sanitising Spray, visit the Forestry Commission website.
I've seen a tree that looks unhealthy. What should I do?
Let us know! Report suspected cases using Tree Alert, Forest Research's online reporting tool.
Want to learn more? We have a great e-learning package that provides background information on biosecurity issues and guidance on the most effective and appropriate biosecurity measures for different situations. Alternatively visit our webpage on preventing the spread of tree pests and diseases.