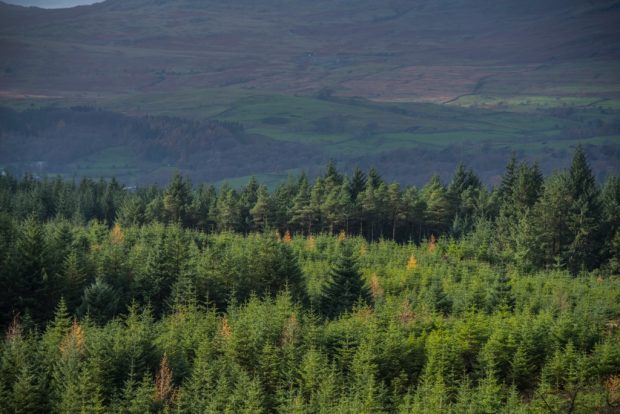 Climate science is complex, and it is easier – at least in the UK – for people to agree on the need for action to combat climate change than to agree on the precise steps we ought to take. One thing pretty much everyone will agree on is that we need to plant more trees. Now that we are committed in law to net zero emissions by 2050, the imperative of tree planting has only got more urgent. The Committee on Climate Change are very clear that the current approach to land use is not sustainable, and we should be aiming for around 30,000 hectares of new woodland in the UK every year – nearly a million hectares by 2050. If it were all in one place (which of course it won't be) that would mean a new forest the size of Norfolk and Suffolk together.
As Chief Executive of the Forestry Commission, I am excited about this. Growing trees is our business, and trees make a proven, cost-effective contribution to tackling climate change. But I'm also a bit wary. Not just because afforestation on a large scale is incredibly hard to deliver, and will involve really difficult choices about land use change right up and down the country. But also because trees are not just about carbon, and carbon is not just about trees. Even on the scale the Committee on Climate Change wants to see, planting trees can only make a limited contribution to net zero – by 2050, the new trees would absorb perhaps 10% of residual emissions if all other reduction measures are implemented. There is only so much tree planting we can do across the UK, so it's crucial that emissions are cut across the whole economy. At the same time, it's vital to recognise that the benefits of forests are wider, and even longer term.
We must think about what we produce from our land. As a nation we produce less food than we eat, and far less timber than we use. In fact we import about 80% of our timber. And we should be using more timber, not less. Timber used in construction locks up carbon for the life of the building, and is far better from an emissions perspective than concrete or other materials. We'll never be self-sufficient, but while there are many important, different landscapes and habitats we must protect and restore, and rewilding too has a role to play in some areas, in general we should be using our land to produce what we can in a sustainable way. It is not a solution to the climate crisis if we focus only on storing carbon on our own land while we import more and more food and timber from other countries. So we should be planting productive forests – well-designed, diverse woodlands, rich in wildlife and right for the soil and the landscape in each different place – which will help us well beyond the 2050 target date.
The hard land use choices we as a country, and landowners as individuals, are going to have to make in the coming years, if we are serious about achieving net zero, are bound to be guided partly by familiar considerations of financial return. But we should also be guided by new ways of reckoning the costs and benefits, by the principles and methodologies of natural capital. Cropland? Pasture? Peatland? Forest? What's best for the land will vary greatly from place to place, and we need to be thinking not just about cash or carbon emissions, but also about production of food or timber or biomass, and about biodiversity, water quality, flood management, air quality, recreation and public health.
At the Forestry Commission, we are developing new ways of thinking about these choices and making the best decisions. Yes trees can help us towards net zero, but the right forest in the right place can do so much more than that.
New blog posts are uploaded regularly so subscribe to receive updates by email and follow us on Twitter to join in further conversation and let us know other topics you would like us to write about.