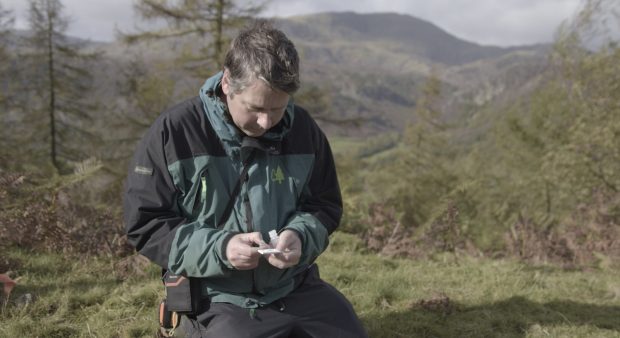 If you're reading this blog, you're probably wondering "what does a Tree Health Officer actually do"? I occasionally ask myself the same question as the role has been constantly evolving. Back in 2010, the job was purely focused on reducing the impact of Phytophthora ramorum and P. kernoviae – microscopic fungi-like organisms which cause severe damage to trees. My role was to identify infected species using aerial and ground surveillance, assisting landowners in removing infected plants such as rhododendron to reduce the chance of further spread. Surveillance activities started in the South West of England, but have taken me across the UK, supporting colleagues in England, Wales, Scotland, Northern Ireland and the Isle of Man.
There have always been opportunities to investigate other lesser-known tree pests and diseases. A Tree Health Officer may be the first person to spot unusual symptoms on trees during routine site visits. Because of this we maintain very strong links with our colleagues in Forest Research, sharing observations and sending samples of symptomatic material or suspect pests to the lab. Tree Health Officers have been first on the scene for many outbreaks including ash dieback, sweet chestnut blight, Phytophthora lateralis, oriental chestnut gall wasp and P. siskiyouensis. Our observations have contributed to better scientific understanding of tree pests and diseases, which I find very fulfilling.
Colleagues revisiting and sampling soil from a larch stand infected with P. ramorum in Devon (felled in 2009) provided scientists with evidence of the long-term biosecurity risk posed by Phytophthora – seven years later. Forestry Commission Tree Health Officers also noticed and sampled small dead ash trees showing symptoms of ash dieback from heavily infected woods planted near the turn of this century. Incredibly, Forest Research scientists were able to successfully extract fungus DNA from these long-dead samples. As such, we now understand that the pathogen was in the UK before European scientists had even identified the cause of ash dieback.
Research and Training
Training and awareness raising has also become increasingly important in my role. We frequently provide on-site training to landowners, managers, agents, specialist contractors, volunteers and colleagues from other governments and NGOs. Although Powerpoint presentations (which we also regularly give) are useful, there's nothing quite like seeing symptoms of a pest or disease up close. These trained eyes across the country help us to react more quickly to potentially reduce the impact of a pest or disease. There are many people on the lookout for symptoms of P. ramorum infected larch nowadays. If trees are identified and felled promptly, the likelihood of it spreading to other nearby stands is reduced.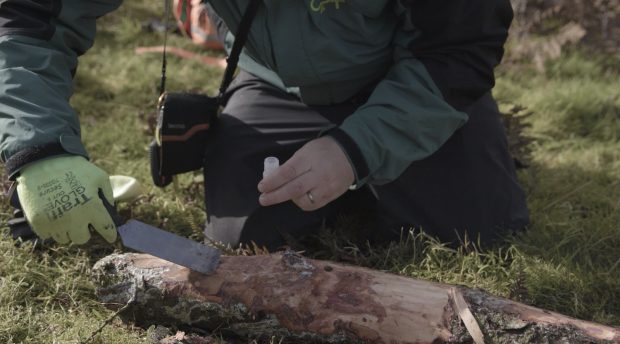 When working outdoors, infected material can easily be moved on footwear, clothing or kit. Through simple biosecurity measures, Tree Health Officers always ensure that we are clean when arriving on site, and when we leave. This makes us confident that we are not accidentally spreading plant pests, diseases or invasive non-native species to new areas. Why not make a few biosecurity commitments to safeguard our trees, woods and forests this International Year of Plant Health?