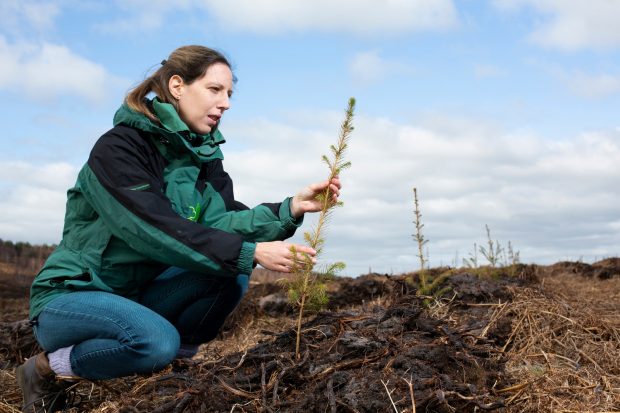 In a series of blogs to celebrate International Women's Day 2021, members of staff share their stories of working in the forestry sector.
My name is Sarah Radcliffe and I am a Woodland officer in East Northumberland. I have been a Woodland Officer for 6 years and prior to that I worked in the Tree Health team as a Biosecurity Officer.  I have been with Forestry Commission for 12 years now, starting as an Admin Officer processing the grants and regulations applications in the Lake District.
When I first went to university a career in forestry had not even crossed my mind. I completed a degree in Conservation and Land Management and I did not consider forestry until I had started in the Admin Officer role at the Forestry Commission and was providing support for the Woodland Officers in Cumbria.
I realised the Woodland Officer job looked really interesting and started to look into how I could gain the forestry experience to apply for one of these roles.  Over the next few years, I completed a University Certificate in Forestry to bridge the gap between conservation and forestry knowledge, and then an MSc in Forest Ecosystem Management.
By the time I had completed my MSc I had been successful in gaining a development opportunity as a Woodland Officer in County Durham. Over the next few years, I gradually gained confidence and experience, and successfully joined the Institute of Chartered Foresters as a professional member.
My role as a Woodland officer involves dealing directly with landowners providing advice on how best to manage their woodlands and what incentives are available to them. No two cases are the same and I get to see some wonderful parts of the country and some hidden treasures, the history of which always fascinates me.
In Northumberland there is a range of different types of forestry, from large commercial conifer blocks, mixed farm estates to smaller broadleaf conservation woodlands which all have slightly different management objectives. The role is dynamic and there is always something new to learn, whether this is a new piece of guidance or forestry practice.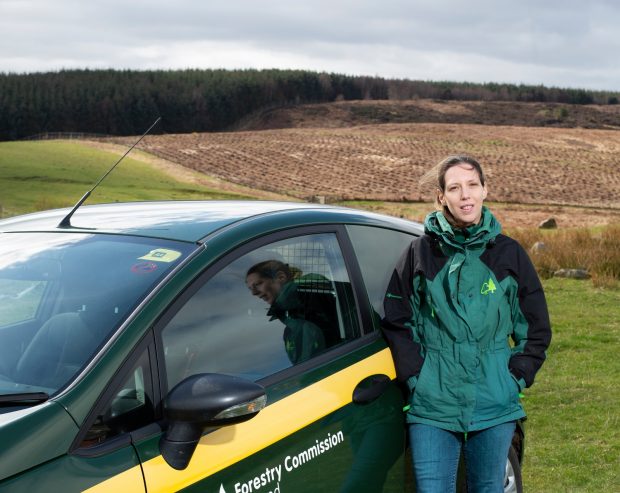 Over the past few years in Northumberland, I have been involved in some of the largest woodland planting schemes in England. It is really interesting to be involved in the regulations and grant processes and see these projects through from design stage to seeing the trees being put into the ground.
The Forestry Commission has provided me with the skills, opportunities, and support to realise my career aspirations so far and it is great to see an increasing proportion of women in these more technical and managerial roles compared to 12 years ago when I first joined.