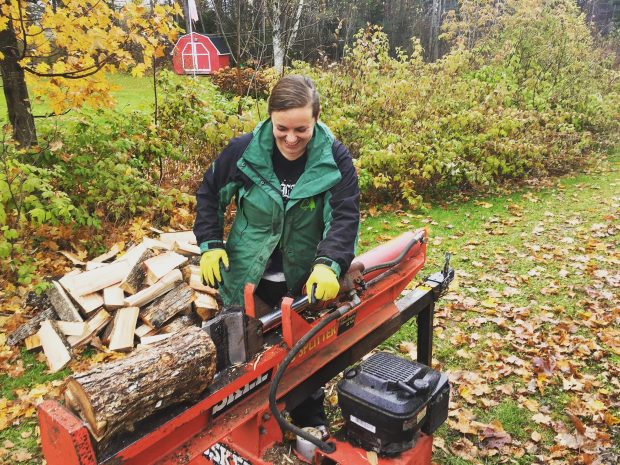 In a series of blogs to celebrate International Women's Day 2021, members of staff share their stories of working in the forestry sector.
My name is Katie Parker and I am the Plant Health Forestry team's Contracts and Surveys Manager. I plan England's surveys for GB Priority and Quarantine Pests and manage our contractor resource for services such as helicopters, pest survey and control, and outbreak support.
I started my career in arboriculture and worked as an arborist at the University of Pennsylvania before joining the Forestry Commission's Plant Health Forestry team in 2014. Since then I have completed an MSc in Entomology with Plant Pathology at Harper Adams University funded by Defra and am now a registered senior plant health professional through the Royal Society of Biology.
In 2018 I was fortunate enough to be afforded three months in Canada to research early detection techniques for the emerald ash borer beetle. I worked alongside experts in this field from Natural Resources Canada, USDA and the University of Minnesota to learn from them and produce a paper which I presented to the Entomological Societies of America and Canada.
I really enjoy getting out into the trees whenever I can to trial new survey techniques and make sure the protocols developed for surveyors are easy to follow. Using a chainsaw every day and coming home smelling of chain oil and sap seems like a long time ago now, but it has given me a good understanding of what is expected of our field teams and I do miss it a bit!
I love sharing my passion for the protection of trees and learning more from the wealth of knowledge held within the Forestry Commission and partner organisations. I recently learnt from Anna Brown, Head of Plant Health Forestry and Contingency, that the basis of our knowledge of 'Dutch elm disease' was down to the early work of seven woman – the first of these was Barendina Gerada Spierenburg in 1919 – an interesting link as this pathogen was the focus of much of the early plant health work at Forest Research, and by coincidence, the year that the Forestry Commission was established.
In my spare time I am co-founder of a charity focussed on the protection of weird and wonderful animals that are often overlooked since they are not seen as charismatic, WAWA Conservation. This realm of conservation work was championed by Dame Georgina Mace in 1996; I am inspired by strong women in STEM and proud to work alongside so many.